A kitchen is more than just a part of your living space. It is the first thing you see when you make breakfast in the morning. It can determine your mood for the whole day! If you've ever felt cluttered,  cramped, or just bored by your kitchen, then maybe it's time for something new. Here are a few kitchen design tips to help you boost your energy, productivity, and happiness.
1. Design wide walkways
One of the most important parts to think about when renovating is the walk space. Will multiple chefs be cooking in the kitchen, or will it be just you? Kitchens typically have 42 inches of space for a one-person kitchen, and at least 48 inches for a two-person kitchen. Aside from the cooking space, walkways should be at least 36 inches wide.
2. Add an island for efficient prep space
Feeling cramped when using your kitchen counters for prep space? Add an island to efficiently prep for meals without feeling cluttered. Make sure to purchase a large island if it will be used for both cooking and eating. That way, you can keep the area safe for people to eat at while you cook.
3. Maximize storage space
Even if you have a small kitchen, the way you use the space will really make a difference. Use pullout drawers for storage and garbage can space, and store dishes on a rack by the dishwasher so they'll be ready to go when it's time to wash. Assign your cabinets to specific products so that you know exactly where to look for that one favorite mug. You can also hide appliances such as a toaster and blender in an appliance garage to make more space on countertops. Make use of the space above your refrigerator by installing cabinets or a display shelf.
4. Pick the right wall color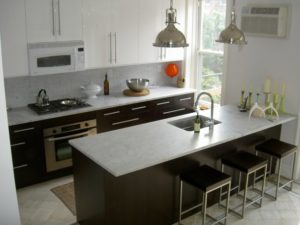 Determine what mood you want your kitchen to convey and plan the color accordingly. For small kitchens, always plan to use bright colors and lights to make the space look even bigger. The color you pick will determine the mood of your kitchen. Pick colors like beige, gray, and white for a sophisticated look. Pick colors like yellow, orange, and blue for an energetic, bright atmosphere.
5. Pick a good backsplash
If you don't want to bring too much attention to the walls, pick a vibrant backsplash instead. Not only will it keep your walls from getting stained by splashes from the counter, but it'll look great, too. Make sure the tile goes with your overall color scheme. Use a neutral backsplash if your walls are already a bright color so that it isn't overwhelming.
6. Add a pop of color
A color pop is always a nice touch. You can match the kitchen appliances to the walls, and keep the rest neutral. For an effective color pop, it is important to only display a few items of that color to avoid feeling overwhelmed in your kitchen.