What Exactly Is a "Butcher-Block" Counter?
Well, for starters, it's made out of straight cuts of wood glued together to form sturdy slabs. It's used for cutting boards, tabletops, and countertops! Butcher-block counters are great for those who love the wood aesthetic, as well as those who can properly maintain a counter. When taken care of, the butcher-block counter can last years. Be wary, however, that without the proper care, these counters can dull and crack. With the proper care, they can give your home a vintage, welcoming vibe. They typically go for $40-$65 a square foot, depending on which style/manufacturer you'd like.
Types of Butcher-Block
There are also two things to think about when choosing a butcher-block counter. One is the wood grain type, and another is whether to seal it or not. There are three types of wood grain: edge grain, face grain, and end grain, and each offers its own unique qualities.
The first type, edge grain, is affordable and durable. It's made by placing long boards on their sides to make a surface from the narrow edges.  The second is face grain. This is when  the boards are put together with the faces of the wood facing up. It's less practical than the other styles because you can leave marks on it when chopping food. The last style is the most popular, end grain. The wood is laid so that the growth marks (ends) face up. However, it is also the most expensive type because it camouflages knife marks and is also extremely durable.
After considering the type of grain you want, decide if you want to seal the wood or not. Sealing it can take away from the soft look of the wood (it'll become shiny). On the other hand, it'll last even longer when sealed properly.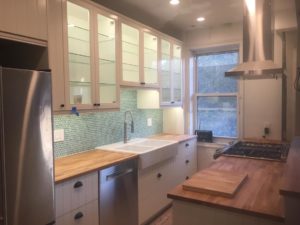 Things to Consider
Worried about nicks and burns? Unlike other countertop materials, butcher-block can be lightly sanded and oiled to look brand new again. Or, you can leave the marks be if you'd like your kitchen to have a little character. However, some more things to consider are if the properties of wood counters are suited for your needs. For example, wood swells or shrinks in times of humidity/dryness. Also, patina may develop on the surface over time, which can either be desirable or not depending on your taste. Lastly, excessive wetness may cause the wood to rot if it isn't sealed.
Still not sure? Mark Reilly, a Californian Architect, decided on butcher-block counters for his client. He said, "The countertop was originally Formica, but the client wanted a material that didn't clink when glass or serving wares were placed on it. After exploring several options, we decided on end-grain butcher-block because of its warmth, soft feel, and vintage-inspired look." You can see from the Basic Builders projects below that it does indeed give a vintage, warm feel to the room. All it requires is some upkeep. Someone once stated a great tip: "Oil the butcher-block once a day for a week, then once a week for a month, then once a month for a year- I've followed this rule for a year and could not be more happy with the result!" (Update:  Others recommend oiling every 6 months).
Now, let's go to the gallery!
Ways to Style Wooden Counters (+Basic Builders Projects)
1. Butcher-block on an island gives the perfect pop to a contemporary kitchen. You can prepare food right on the counter if you wish. Use a cutting board if you'd like to preserve the look of the counters.
2. Wood counters can also look very vintage when styled that way! The team used a darker wood to match the overall aesthetic of the kitchen.
3. You can even mix-and-match styles! Basic Builders creatively paired soapstone and wood (below) for a more modern look. Wood also looks fantastic paired with quartz or marble.
4. Lastly, they decided to craft reclaimed wood into a durable counter! Its natural feel gives a warm glow to the whole room. As an added bonus, it's also very eco-friendly and affordable! Who knew that natural wood made such a nice addition?
Have any questions? Pop a comment down below and one of our kitchen experts will help you out!